Where to Buy?
(If you are considering owning an English Setter, please consider adopting an adult instead of getting a puppy. There are many loving English Setters who needs a second chance at life. Read more about it on the adoption pages.)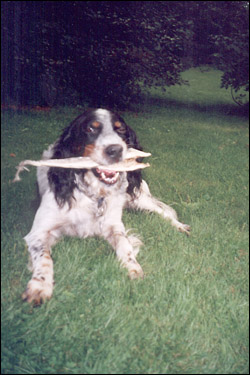 First and foremost ... always buy from a recognised breeder. Never buy from a pet shop, through a third party, or from a kennel which advertises lots of different breeds for sale.
A reputable breeder will always ask questions about you, your family, your home, your reasons for wanting an English Setter, etc. The breeder will be attempting to ensure that you have a suitable environment for the puppy which he or she has carefully bred. The dog's welfare is central to these enquiries. If you're not prepared to answer such personal questions, then you're probably not the right person to own a dog.
A reputable breeder will be prepared to show you the mother of the puppies and other adults in their kennel, so that you can get a fair impression about the temperament and structure of their other dogs. Some of these may be related to the puppy which you are viewing. The breeder will also be willing to talk openly about health issues in the breed and the actions they have taken to ensure that their stock is as healthy as possible.
Do not buy a Setter advertised in the newspaper, nor from the local pet shop. Unfortunately, most people selling English Setter puppies in the newspaper are NOT any good. And even though the store owner assures you they only buy from good breeders, they likely are not. Noone would ever place one of their puppies in a pet shop. Go to Sitemap | Animal Concerns Community | English Setter Rescue
More websites from us: Best Antivirus Program: Best Antivirus Program | Quality Space Heaters: Space Heaters | Order Personal Checks Online | Beds for the Toddler: Toddler Beds | Expensive Gifts |