Genetic Problems
All breeds have some genetic problems. Fortunately, English Setters have relatively few, but you should be aware of the following: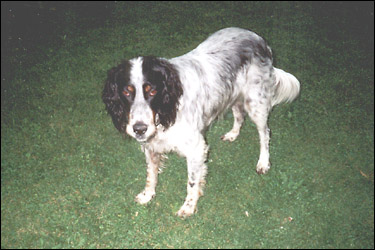 Canine Hip Dysplasia
This is an inherited abnormality of the hip joint that can lead to arthritic problems later in life. Responsible breeders x-ray the hips of their breeding stock and evaluate their suitability for breeding. The current average for hip dysplasia in English Setters is about 24% affected, and the percentage is decreasing, due to responsible breeding practices. This disease is very complex and not well understood.
There is no way to guarantee that you will not get a puppy with hip dysplasia, but you can maximize your chances for good hips by looking for lots of good hips in the pedigree. Nutrition and exercise also play a role in the expression of the trait. Affected dogs that are allowed to get too heavy or that do not get enough exercise may stand an increased chance of developing a disabling case of hip dysplasia.
Elbow Dysplasia
English Setters also can develop elbow dysplasia. This is an inherited abnormality of the elbow joint that can cause lameness of the forelimbs. X-rays are the way to confirm a diagnosis.
Other
English Setters have been susceptible to other health problems that the buyer need be aware. These problems, while not affecting a large percentage of the breed, are nonetheless present. These include canine hypothyroidism, a thyroid deficiency that is easily controlled through medication and diet. Go to Sitemap | Animal Concerns Community | English Setter Rescue
More websites from us: Best Antivirus Software Reviews: Best Antivirus Software Reviews | Quality Space Heaters: Space Heaters | Order Personal Checks Online | Beds for the Toddler: Toddler Beds | Expensive Gifts |